Jake and I departed Richmond (yes, it involved the standard train station sobbing- me, not Jake) to embark on an epic journey to Bicester.
Well, it was well worth the wait.
Jeffer had pulled out all the stops and a five course meal awaited.
Starter: Baked figs with goats cheese wrapped in Parma ham with rocket and grapes. Amazing!!
We even had party masks for pure LOLZ. This is Adam who managed to look like what Mr Tumnus would look like if he was a burns victim.
Next up prawn and scallop gratin with homemade rosemary flat bread. Jeffer surpassed himself with this one!
Then it was secret Santa time. I got the BEST EVER mug. "Doooon't mention it" is a Bicester in-joke involving Tim The Greek boxing a kangaroo.
Then for main...
Beef Wellington and turkey with all the trimmings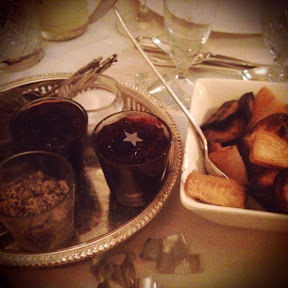 Totes delish. And to celebrate... A table tornado!!!!
Check that bad boy out! The explosion was comparable to Albert Squares B&B (unfortunately the Masoods couldn't make it though. Neither could Richardpbacon come to think of it)
Jeffer showing off his new Christmas tatts
Prizes me and Jake won during table games. That's right, Muslim Russian dolls. I know what you're thinking but Russians can be Muslims too you know!! Racist.
Cheeseboard and trifle
Yet more fire. If only Yusef was here he'd have loved it....
Choc pannetone bread and butter pudding and home made mince pies
Several drinks later and this happened...
And for once it wasn't me YESSSS!!!!
Thankyou Kate and Wills. Thankyou Willmore seniors and thankyou Bicester!!!!
Posted using BlogPress from my iPhone