Friday night saw me and Pegleg head to Graces for an evening of entertainment after our mani (that's me and Grace... Pegleg wasn't interested). We were joined by Lawrence "the pizza's not burnt, it's meant to be like this" Davis.
After customised pizza, copius red wine and enough chocs to resemble my 2003 self (more about that later) we were surprised to hear a knock at the door and were greeted by Shafi, Grace's 12 year old neighbour.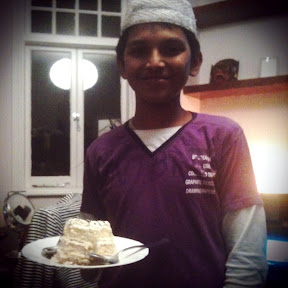 Shafi informed us that it was his family members birthday so had kindly brought us up some birthday cake.
Pegleg (ex SAS member) gave the cake a 10 out of 10 and described the icing as cloudlike. Shafi.... If you're reading this we'll happily take cake off your hands any time. Deeeeelicious.
P.S. For those readers interested.... This is me in 2003. Woah sista!!!!
- Posted using BlogPress from my iPhone