Tea with the Mills/Davies to Pizza Express. We started with hot garlic doughballs, always a winner (except if you're Laurence and only get one due to late arrival) then onto...
Pesto pizza (can't remember the name) for Grace.
A pizza with gorgonzola for Laurence. The pizza winner.
A spicy beef pasta dish for Snake (he described it as 'pedestrian' FYI)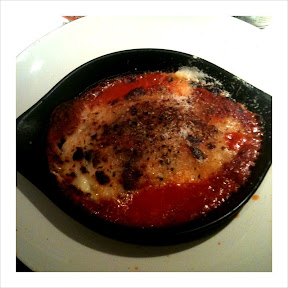 And aubergine (eggplant to our US pals) parmigiana. This was delish!! I'm a big fan of this dish in general. Jonesy and I made it once and it takes forever. I recommend ordering with a side of rocket. Which is what I did.
A nice evening had by all. Much of it spent chatting chicks and octogans.
Posted using BlogPress from my iPhone