Saturday me and Pegleg hit Brixton to meet a couple of friends for a flat white. Correct, Northerners DO drink coffee (even if most of them didn't know what a flat white was, Welshy thinking it was a particular type of sliced bread ) and a spot of lunch.
We were surprised not only by how chic the lunch spots are (Brixton virgins you see) but also how many Richmonders would be there. Nice surprise, there was a grand total of about 12 of us and we ate in 'Cornercopia' (AND would you believe... it's actually ON a CORNER. Weird, huh?! )
Of COURSE I chose the hot smoked salmon and soused onions with horseradish. Admittedly no one on the table knew what soused meant. Even jones was semi guessing...
Jones opted for chestnut blinis with mushrooms and a red wine (served in a tumbler obvs - this is London we're talking about)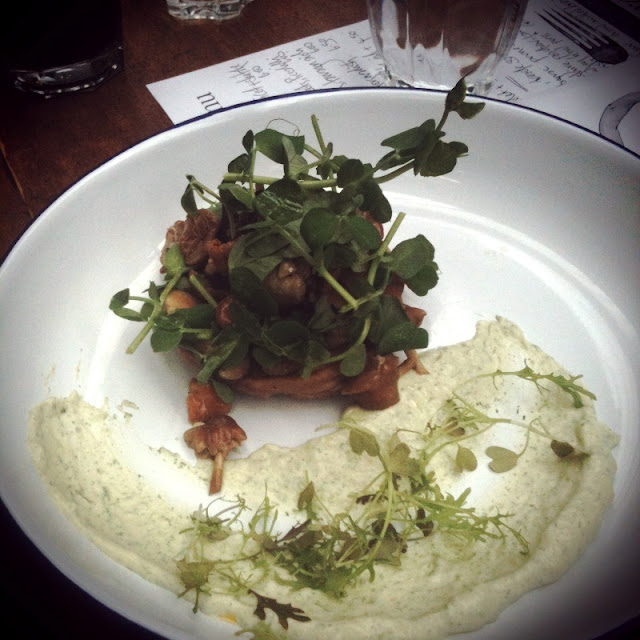 Hendo went for beetroot risotto with blue cheese mousse and asked where was the beetroot (despite the fact the risotto was purple)
I apologise for this accidental/ unfortunate picture crop Hendo
Welshy chose the chicken terrine with cornichons. Course he did - it was the closest thing on the menu to game (he's VERY country you see - apaz he can smell a fox from up to a mile away)
Pegleg with his cauliflower soup with hazelnut and blue cheese
Hendo pulling his "sex face" and modelling the menu
And a steaming faggot.
And the mandatory group shot.
Throw in a few bowls of chips, some boiled veg and few more non complex carbs and we coulda been back in the Mond!!
10/10 Great Saturday
Posted using BlogPress from my iPhone